Laryngitis Remedies

- We Singers Often Are Looking For Ways To Deal With Sore Throats and Laryngitis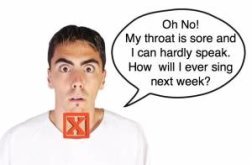 Laryngitis remedies are hard come by for we poor singers. Read about my own research on sore throat and... the dreaded laryngitis - especially as they affect singers.
Over the years, I have heard from singer friends & colleagues about various ways that they have found to hurry away a sore throat or laryngitis.
I've discovered that many singers (& actors & speakers) are passionate about their own discoveries for sore-throat problems. Some throat remedies have been passed down from grandmother to mother and on...
So this is your turn to share your vocal knowledge with others. Because we all have at least that one thing in common - the need for good health in order to sing!
P.S. Scroll down & read below the form what other people have written about their own struggles with and remedies for laryngitis.
Do You Have A Helpful Home Remedy For Laryngitis?
We singers often have to deal with throat issues. If you have found something that you think works for laryngitis, sore throat or for a lingering cough - share it with us!
What Other Visitors Have Said
Click below to see contributions from other visitors to this page...

From Laryngitis Remedies to Laryngitis
©Copyright 2008-2018 Singing-Tips-with-Barbara-Lewis.com
For permission to republish articles, please contact Barbara Lewis