A Singing Forum That Helps Me To Serve YOU Better!
Hello and thank you for coming to this singing forum page!

I am making some major changes on this singing-tips-with-barbara-lewis.com Web site.

I intend to take the site in new directions: making it more creative, more interactive - (with you, of course!), more attractive and more useful to singers like yourself who strive to sing your best.
By answering the two polls, you will help me to make my changes more focussed on your real interests and needs.
Thank you for taking the time to think about this and make your choices.

Poll number one is easy. You are the age you are. I will not know what age you have chosen. So you are free to be honest. And that will help me a lot!
Why this interest in age?
I have a special interest in singers who are over forty because that is where I am at in my singing life, too. And I feel that we "older" singers have unique kinds of vocal needs, problems and interests. I want to share my experience with those issues with singers who are my age (and older).
But I have been coaching singers as young as 7 for many years. So, while my personal place in the singing world is in the forty plus bracket, my longstanding expertise and pleasure in teaching is with singers of all ages!
Please check your answer and press VOTE!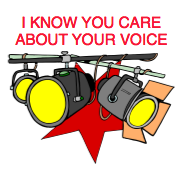 In poll number two, you can choose more than one answer.
You are also free to leave a comment, if you choose to do so. Please keep your comments focussed on the areas of singing life that you are most interested in exploring.

Check your answer(s) and make your comment(s). Please remember to click on VOTE!
Thank you for participating.
YOUR INTEREST
gives this site purpose!
I WISH YOU GREAT SINGING!