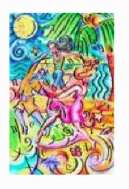 Singing News & Music Ideas To Energize Your Creative Flow and to Keep You Informed!
THIS PAGE IS SINGING NEWS - PART THREE
PART ONE and PART TWO MUSIC IDEAS - I think it is wildly important for singers to know what is going on in the world of singing in particular, and in music, in general.
On this Singing News page, every week I will post one or two of the most interesting stories, ideas and features that I find on net.
I want to get your creative juices flowing! And I want to keep you informed about the latest singer's news.
Check back weekly for more inspiring MUSIC IDEAS and SINGING NEWS!
____________________________
• Have a look at how and where our songs are selling these days! It's quite a surprising chart! THE STATE OF MUSIC SALES! • Get your FREE new hand book on music from Berklee School of music. They write that this hand book... will prove to be a starting point in your lifelong music business education... Berkleemusic's Music Business Handbook