Singing News 4 You!
Singing News 4 You & Music Ideas To Energize Your Creative Flow and to Keep You Informed!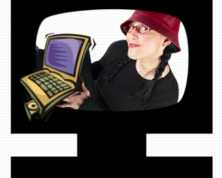 SINGING NEWS - I think it is wildly important for singers to know what is going on in the world of singing in particular, and in music, in general. Being informed will only increase your chances for a singing career.
On these Singing News pages, I will post several of the most interesting stories, ideas and features that I find on net.
I want to get your creative juices flowing! And I want to keep you informed about the latest singer's news.
---
October 22, 2012
• CHOIR MANIA! A great site for those who are mad about singing in choirs! And doing it better.
• Beautiful Engineered Sounds - I enjoyed doodling with this tool. Five minutes of quiet music & spontaneous "art." The much-reduced result is shown in the image on the left.
• What is this new thing with Vomiting onstage? Sheesh! Are people becoming that bored with music and music-making?
• YOUR PURPOSE - "This is the true joy in life - to be used for a purpose recognized by yourself as a mighty one. Being a force of nature instead of a feverish, selfish little clod of ailments and grievances complaining that the world will not devote itself to making you happy." -George Bernard Shaw
Doing what you love - and feeling good about it. Michael Neill (former actor - turned writer) writes about what he thinks are the Three Pathways on the Game of Life (scroll down to read them on this page) I think he makes some good points that we singers can benefit from.
---
SEPTEMBER 17, 2012
John Mayer's throat problems - interesting to read about how a popular and hard-singing vocalist must deal with throat issues.
Shyness and pop-music success - "Shyness is nice and shyness can stop you from doing all the things in life you'd like to," sang Morrissey in The Smiths' song "Ask"...
YIKES! Not Stage Fright! - some novel ideas from Barbara Lewis in an interview with Caroline Holden...
CD Baby offers some pretty useful (free) guides for your music career!
$$$ How one singer with a big following - raises oodles of money.....
---