Share Your Singing Stories! Others Can Help YOU and/or Be Inspired By YOU!
YOUR STORIES HAVE POWER!
No matter where you are in your singing life, everyone has a few singing stories.
YOUR STORY ABOUT SINGING may be about your hopes and dreams to be a singer. Or you may be a long-time singer with a story or ideas about singing that will inform others, make us laugh, make us think or richly entertain us.
When we share our stories, we let others know that we are out there making music, too! Writing about your singing life can sometimes help YOU to discover new ways to follow YOUR dream.

I hope you will take the time to write a few words in the box below or write many words! Its up to you. Include a picture of yourself, too, if you wish!
Tell us about your first performance or what happened at your first lesson. Tell us about another singer whom you love. Tell us why you started to sing. Tell us what kind of music you sing and why you love that kind of music. Tell us about the choir you sing with. Why do you love singing in that choir? How does it make you feel? Tell us who your favorite singers are.
Write a little or write a lot. I will read through everything that is sent in and approve it for posting on this site. (Remember... you can also include a picture of yourself.) Let others know about your work and your hopes and dreams!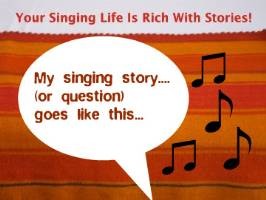 Have A Great Story About Your Singing Life? (or your dream to sing?) Or perhaps you would like to ask a question about singing?
Do you have a story about Singing? Share it with other singers!
What Other Visitors Have Said
Click below to see contributions from other visitors to this page...

Back from Singing Stories to Singing Tips With Barbara Lewis