Easy Listening Christmas Music - For A Peaceful Christmas Eve
Easy Listening Christmas Music
I love Christmas music.
The sounds of carols playing has, since I was a child, created in me a feeling of magic and a spiritual connection to a deeper place.
As a young girl, I would sing carols for my family and friends for our "Holiday musical get-togethers" - a time when all family members were expected to play an instrument or sing.

They were memorable events for me, as I was growing up.
And now, many years later, while I am not religious in the traditional sense, I do have a feeling of inner majesty that I tap into - especially when I sing.
---
Recently, I recorded two songs (of 10)
that I consider easy listening Christmas music:
Rise Up Shepherd & Silent Night
Both of these songs will be featured on my upcoming CD called, A Peaceful Christmas Eve. You can sample them by clicking on the links above.
---
A Peaceful Christmas Eve - with a purpose...
I chose the title, A Peaceful Christmas Eve because I want to contribute to and encourage a quieter feeling at Christmas time. Many of us (most of us?), including me, get caught up in the "race to be ready" for Christmas events.
Many people feel a lot of pressure during the Holidays - pressure to have fun - to look good - to appear happy - to be able to give a lot to family and friends (whether or not we really can...).
We tend to eat too much and drink too much and try too hard to "make the best of it." I have friends who tell me that they can hardly wait until the Holidays are over. All the forced "merry making" is just too much for them to endure...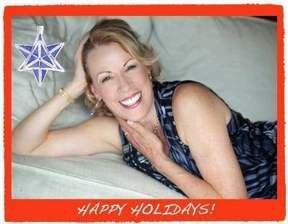 So, in thinking about a Christmas Recording, I decided that I would create a feeling of calmness, of peace. A CD you can listen to at the end of the day when you are ready to breathe a sigh of relief and perhaps, stare into the embers of a fireplace - real or televised...
I hope you will listen to the samples of my two songs - and perhaps buy them, if they please you.
I wish you and your family a Wonderful and Peaceful Holiday Season!
Back from Easy Listening Christmas Music to Free Christmas Music
---