Singing Tips With Barbara Lewis Site Map. Links To Singing Information & Resources For You!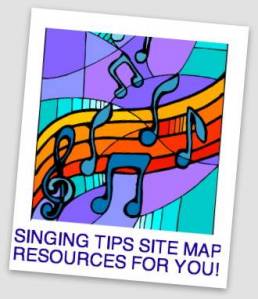 Click on various links to discover a world of information about all aspects of a singer´s life: business & art.

1. Letters: A - H

Auditions, Barbara Lewis, Singing Tips Blog, Breathing, Career, Colors, Communication, Contact, Emotions, Gifts, Interpretation of Songs, Laryngitis, Songs, Stagefright, Self Esteem, Sore Throat etc.
2. Letters: I - R List of Singing Tips, Music Studio Resources, News For Singers, Podcast, Readers' Feedback Pages, Communication, Online Lessons etc.
Singing Lessons, Songs, Songwriting, Singing After Forty, Subscribe to Hot Tips Newsletter, Vocal Technique (Breathing, Vocal exercises, How To Practice, Warm-ups)

I wish you great singing!