HOW TO BECOME A SINGER LATER IN LIFE...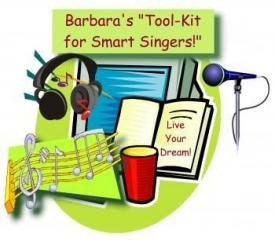 We singers who are a little older have a powerful role to play in the world of singing!
SINGING INFORMATION FOR THE "OVER 40" VOCALIST!
Have you been wondering about how to become a singer, now that you are past the "young singer" starting point?
Don't worry, you are not alone!
There are many people who used to sing or who always had the desire to sing, but could not find either the support for this adventure nor the time.
BECOME A SINGER WITH

"THE TOOL-KIT FOR SMART SINGERS"
I have created a group of tools (written, audio & video) to help returning singers find quicker and easier success! What tools are included in this unique Singers' Tool Kit?
• A copy of my my new E-Guidebook called: "Get Started On Your Dream!"
• Which comes with a beginner's 20-minute Vocal Warm-Up on MP3 called "Sing With Me!"
• Easy-to-follow weekly vocal warm-ups from my "SING WITH ME" series.
• Reduced rate on my Trio Lesson Package (3 online lessons).
Read more about the Tool Kit For Smart Singers!
If you are new to singing, you may also be interested in my E-Guide STAGE FRIGHT! - 12 Powerful Tools to Help You Beat It - Especially for Singers (PDF File) which addresses some of the major difficulties that singers must overcome when they suffer from stage fright. (Priced at only $4.99, for a limited time!)
For more information about how to become a better singer, please subscribe to my FREE newsletter for singers of all ages - that will bring you Insider Tips, Vocal Secrets & Helpful Tools. Plus the "All About Singing" Podcast!

Sign up Now!

I wish you Great Singing!

Back from How To Become A Singer to Singing Tips With Barbara Lewis