The "All About Singing" Podcasts with Barbara Lewis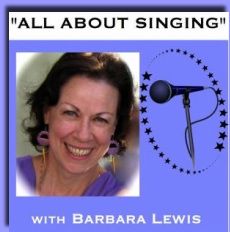 ALL ABOUT SINGING! Join singer and vocal coach, Barbara Lewis as she interviews intriguing and innovative people who have important things to share with YOU about the wide world of singing.
As they come available, all the Podcasts will be kept on this library page.
Click on links to read more about the podcast and to listen to the audio file. For most of the radio-format shows, please look for written transcriptions as well on the "read more" pages. You can read while you listen or simply read!

PODCAST #1
READ MORE (including the transcription)
Voice expert, Meribeth Dayme tells us about her unique approach to "serious" singing lessons that involves a lot of PLAY! For example, think of 10 different ways that you can sing an ordinary 5-note scale that makes the exercise new and creative and not so difficult...(jazzy, dotted, backwards, bebop...) LISTEN TO PODCAST #1


PODCAST #2
READ MORE (including the transcription) I spoke with Alan Fraser, a well-known pianist and a long-time practitioner of the Feldenkrais Method of body work. We spoke about many issues that affect singers: how to stand to reduce tension, how to breathe, and most important, how to serve the needs of our souls.... LISTEN TO PODCAST #2

PODCAST #3
READ MORE about the Alexander Technique and YOUR Singing!
I spoke with Canadian singer and singing teacher, Caroline Holden about how this technique has helped her own singing, her student's vocal improvement and much more... LISTEN TO PODCAST #3



Back from all about singing Podcasts to Singing Tips With Barbara Lewis