Singing Lessons, Singing Guides, and more!
SINGING LESSONS AND SINGING GUIDES:

Barbara Lewis offers a wide range of lessons and guides to help you become a better singer. Visit her gift shop to learn about all the resources. There are packages of lessons, single-lesson specials and consultations. Barbara offers 3 singing guides in her shop as well.
The three items below are "best sellers" in the gift shop.
Click on pictures or links to read more and to watch video demonstrations of many of these courses.
---
---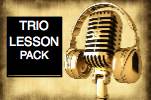 "TRIO LESSON" PACKAGE OF THREE - 30/minute lessons by video (using Skype) (Lessons are usually $35 per half hour.
This special offers 30 minutes for only $26.)
---
The "SPECIAL PROJECT" package of FIVE - 30/minute lessons by video (using Skype) (Lessons are usually $35 per half hour.
This special offers each lesson of 30 minutes for only $25. A great value!)
---
The "BEGINNING SINGER'S TOOL KIT" contains a combination of tools that can give a beginning singer a great boost of confidence and pleasure.
1. "Get Started On Your Dream!" 18-page E-Guide
2. 20-minute Vocal Warm Up for beginners
3. Access to a short weekly vocal exercise (audio or video) for 6 weeks. The link to this weekly exercise will be sent to your e-mail address.
4. Reduced rate on the Trio Lesson Package
---

Barbara Lewis offers one half-hour "GET TO KNOW YOU!" lesson at the special price of $25.00 as an introduction to Skype singing lessons.
This offer is valid only for a "first" skype lesson so that prospective students can see how a lesson works with Skype - at a very good introductory price.
---
For those singers who do not want to take a lesson, here is an opportunity to simply "ASK BARBARA" questions about your singing that will help in your vocal development or help you to solve an ongoing problem.
For example: Do you wonder about:
• improving your talent - talk about your hopes and dreams
• increasing your range - what simple tools can help you with this?
• how to warm up - what exercises are most helpful at your stage of development?
---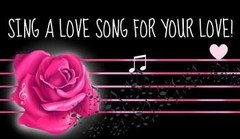 The "Sing A Love Song For Your Love!" package is 3 online singing lessons that will ease you into preparing and singing the song you have chosen. Not sure what to sing? Barbara will suggest a song for you that will suit both your voice and the occasion.
---
Back from Singing Lessons To Singing Tips With Barbara Lewis