Careers in Music - An inside look at Singing & Beyond...
If you are considering different careers in music, this page is your introduction to the wide variety of possibilities open to you in the area of singing.
Remember that just as there are many different types of work in the broad field of "music," there is also a wide range of careers within the smaller world of singing itself. Each requires it's own set of abilities and talents.
(Read here about starting a singing career.) Careers in Music - Starting A Singing Career If you have found that live vocal performance is not for you, but you love the world of singing, consider the other possibilities: become a music manager or an agent for singers; sing in a professional choir; create your own virtual concert hall on the net so that you do not have to travel as a singer; or take seriously the path of becoming a songwriter who writes for other singers.
If you need some insight into ways to gain confidence about the route you are taking in music, look here for some tips about self esteem: The Powerful Symbol of Self Esteem
Interviews! Audio & Video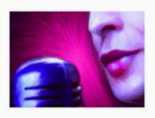 In the months to come, I will be doing interviews with a variety of people who work in different aspects of the arts.
From this page, you will find links to information about a singing career; and also to other aspects of a vocalists life - what it means to be a singing coach; how music managers do their job; what it takes to start a choir or to become a singing teacher.
Auditions!
I've put together a guide for AUDITIONS called The Audition Spiral. Click here to read audition tips and how to choose appropriate audition songs. _______________________________
More Information to Boost Your Career!
Here is your first free beginner songwriting tip for those who are just starting out... no matter your age!
Songwriting Tip #1
________________________
HOW DO I BREATHE?
For singers, good breathing is essential. What does "good" breathing mean? Ask different singing teachers and coaches and you are likely to get different answers. Here's what good breathing means to me...
Deep Breathing Exercise _____________________________
I will be covering many exciting issues over the next few months, in writing, audio and video, so please check back often. (Read here about "Overcoming Stage Fright") And remember...
Make big plans. Take small steps. Follow your dream!
I wish you great singing.

Back from Careers in Music to Singing Tips With Barbara Lewis