News, Ideas & Inspiration from Barbara's "Tool-kit For Smart Singers"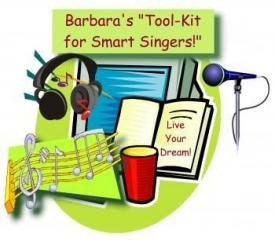 FROM THE "SMART SINGERS SERIES"
(Read about the Tool Kit For Smart Singers!)
Over time, you will find items here that can boost your creativity and give you inspiration to continue your artistic work - no matter your age.
Also watch this page for the "smart singers" series of tips and tools...
INSPIRATION THE NEWS:
"Few singers have the emotional depth and versatility of Abbey Lincoln. With a voice capable of evoking the joys and pains of life, she carved a niche as a singer, songwriter and storyteller for more than 40 years. Up until her death this past Saturday at age 80, she still pursued new and creative ways to express herself." Listen to the documentary OR read more here.
IN THE NEWS:
"Just how directly can music manipulate our emotions, and even our actions? The website of the science magazine Miller-McCune has been gathering up recent research attempting to demonstrate that music is instrumental." Read more here.
IN THE NEWS:
Getting on Billboard Music Charts at 40?
"James Murphy is living proof a musician's meteoric rise to stardom can happen even in middle age..." Read Music at the Crossroads
SUBSCRIBE! to my FREE newsletter for singers of all ages - that will bring you Insider Tips, Vocal Secrets & Helpful Tools. Plus the "All About Singing" Podcast!

Sign up Now!
No Matter Your Age or Your Starting Point,
I Wish You Great Singing!

Back from For Smart Singers to Singing Tips With Barbara Lewis