We Singers Need To Build A Powerful List Of Love Songs!

THE IMPORTANCE OF DEVELOPING A LIST OF LOVE SONGS...
We humans love to listen to love songs. We enjoy feeling bad all over again when we hear a song that reminds us of a past love - lost.
We dream of future lovers through dreamy or raunchy love songs. We dedicate love songs to current lovers. We say things like, "That's OUR song!" when a certain, meaningful tune airs on the radio.
In fact, most songs are love songs, or so says the wonderful late comedian, George Carlin. And he didn't say that sympathetically. He felt there were far too many love songs.
But we singers cannot escape the fact that people love to hear them. And so we must build a list of love songs that WE LOVE to sing.
How? Here are a few suggestions:
1. Look for great love songs from the past that you can make your own in a new way
2. Ask your friends which love songs are their favorites
3. Look at the lists of 100 greatest love songs of all time on the net
4. Look to other cultures (perhaps to your parents' heritage?) for great love songs
5. Always be listening for love songs that grab your ear and/or your heart (Be sure to write down the name of the song before you forget.)
6. Write your own love songs! Make them unique. Find a poem that grabs your interest and construct a song around someone else's notion about love.
7. Ask friends who are from a different culture to suggest great love songs to you.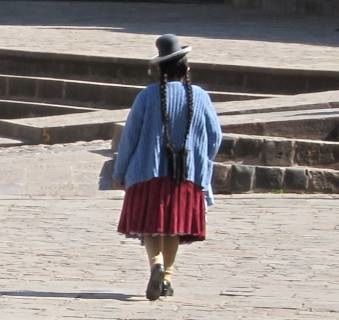 Right now, I am in Cusco, Peru. I saw this woman on the right walking through the main square in Cusco. Very likely, she too has her favorite love song.
Today, I asked a friend in Cusco to name one of her favorite Peruvian singers. (It had to be someone who writes popular songs). She gave me the name of Gianmarco. Listen to (and watch) his intimate love song - Una Cancion De Amor.
8. Explore the love songs of truly great song writers. Because I spoke about Jimmy Webb last week, his work comes to mind today. He has written some powerful, but not "cookie-cutter" styles of love songs that your audience might enjoy. Check out some of his songs on Itunes.
Older writers, like Webb, can offer young singers some stellar material that you can bend to your own contemporary style. Don't overlook the possibilities here. Also, take a lesson in songwriting from these artists.
There are many ways to build your own list of love songs. For those of you who are long time singers like myself, finding a new song that really speaks to you is great gift! It's worth the research effort.
Here is one one of my own choices: Love.
DO YOU WANT MORE FREE INFORMATION ABOUT SONGS, TECHNIQUE, AUDITIONS...?

Subscribe NOW!

for HOT VOCAL TIPS FOR SMART SINGERS! - a weekly newsletter that will bring you tips, secrets & tools to help you become a much better singer.

To thank you for your subscription, you will receive:
1. A one-of-a-kind GIFT - a Guided Meditation (MP3) called, ¨Your Inner Voice.¨ This guided meditation is a rejuvenating blend of uplifting words, original music and real ocean waves, (from the seashores of Cancun, Mexico) – created to bring you closer to your own true, rich voice.

2. A 9-point primer titled, ¨THE RIGHT STUFF - What It Takes To Become A Successful Singer!
9 Valuable Tips To Give Your Singing A Boost!
Subscribe NOW! with the form on the right.
I Wish You Great Singing & May You Build A Powerful List Of Love Songs!!

Back from List Of Love Songs to Singing Tips with Barbara Lewis