Online Singing Lessons - Especially For Singers Starting Later In Life!
Online Singing Lessons May Be The Answer For You - If You Are Over 35 & Yearn For Some Good Vocal Direction. Because..

- You may not live in a city where there is a vocal coach who understands and supports your special musical choices.
- You may have heard about a teacher from a friend who lives in another city and you'd like to have just one or two lessons to get an injection of new ideas.
- You may be stuck in a rut with your voice and would like to have a session with a well-known teacher who lives far away.
- Your own teacher may be far away for periods of time and you want to have consistent access to his/her specific direction.
- You simply may not have time in your busy life to get out to a lesson regularly. Online Singing Lessons make sense for all these reasons. Read about my own approach HERE.

In Person Is Best - but "Online" is Cool and Immediate!
There is little doubt that the BEST way to take singing lessons is "in person." A teacher can see and sense the subtleties of your singing. She/he will be able to hear you with greater accuracy in a studio-acoustic that is well-known to him/her.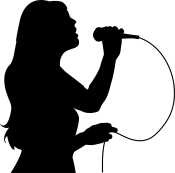 High quality online singing lessons are quite dependent upon good visuals and good audio. When I teach online lessons, I use a big computer screen with good speakers. Even so, this is still not as efficient as seeing the person standing there in front of me.
You, the student, will also have to have reasonable equipment so that you can see and hear well when your teacher demonstrates a phrase or an exercise. (Since I have long been a Mac-only user, here is a large PC monitor that was recommended by a computer-savvy friend.)
HOWEVER! as the technology improves and our experience with online-life increases, these kinds of lessons will become easier to manage and more popular with vocalists. We singers will have the freedom to work with an inspiring teacher who does not live nearby.
NOW! is the time to learn what online lessons can do for You. Get involved with new ways to live your dream!
THE GREAT THING IS...
Online coaching with someone you do not know can give you a quick burst of new ideas. A new teacher can sometimes see or hear something in your singing that your own teacher may have become used to or overlooked.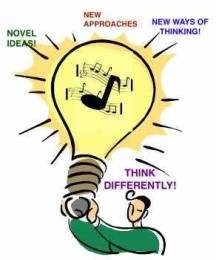 This does not necessarily mean that the new teacher is better than your regular coach. But YOU may be at the point where you need a fresh outlook or a new approach to an old vocal issue. And several lessons with someone new can be like attending a workshop - after which you return to your regular teacher with a more open mind.
ONE MORE NOTE...
BEWARE the new teacher who tells you that your singing is "all wrong." Or a coach who criticizes your regular teacher. This is not professional behavior under most circumstances.
YOU'D LIKE TO TAKE A LESSON?
To learn more about taking an Online Lesson with me go here. Click for this year´s Holiday Special Trio Package of Lessons!
I Wish You Great (Online) Singing!

Back For Online Singing Lessons to Singing Tips With Barbara Lewis