Sore Throat Remedies - A Speech Therapist Offers Some Advice
UNUSUAL SORE THROAT REMEDIES.... A singer friend of mine had one of those situations that all of us singers hate to think about: a long-lasting bout of laryngitis. She stayed quiet for awhile, canceled concerts, stopped teaching and waited...
When it did not get better, and with growing concern, she visited the speech therapy unit of one of our leading hospitals in Montreal, The Montreal General. And there, she was given some friendly support, and as it turns out, some very good advice about how to deal with her laryngitis and the 2 small nodules that had formed on her vocal cords. (Not from bad technique or over singing).
The speech-language pathologist, Glenna Waters, took my friend through a series of very gentle vocal exercises that were to be repeated twice a day until the problem was healed.
Waters supervised my friend for four months. And gradually, with patient work, she was back in vocal shape and eager to tell other singers about these exercises that she was now using as daily vocal exercises with her singing students.
NOTE WELL!
My friend did make it clear to me that these exercises are most effective if carefully monitored. She believes that voice students can find it difficult to judge what it means to do the exercises with "ease" and without "pressure." That it takes real supervision for singers to get the idea of the correct feel and sound.
So if you are a person with real vocal problems, please see a speech therapist and/or throat doctor before you use these exercises as an antidote to laryngitis or other vocal difficulties.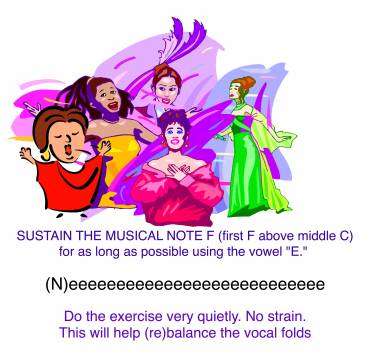 SHARING THE KNOWLEDGE!

Last week, my friend organized a meeting of singers and singing teachers where Glenna Waters generously offered her time to talk about these exercises that work so well on some poorly-functioning throats.
Listen here to the Neeee exercise.... as the singers in the room do the simple, quietly voiced Neeeeeeee exercise. This is not sung - but "voiced" (as in, do not try to be a good singer) - just do the exercise with little or no strain.
The idea is to sustain the note as long as you can without much effort. As you repeat this exercise, over time you should be able to sustain a clean tone for a longer duration.
The people you hear in this short clip are all trained singers and teachers, so the tone goes on for quite a long time. Some people may only sustain the tone for a few (8-10) seconds at first.
We also learned that these simple, quietly-executed exercises can be helpful to healthy singers as well, to:
- balance the vocal folds
- help keep aging voices in better shape
- help in recovery of vocal health after heavy periods of rehearsal and performance
- reduce breathiness in a voice
- and more...
Note - It is best to do them at the beginning of your daily warm-up.

This is just one quick look at the short series of exercises (dealing with sore throat remedies) that we learned about in this meeting. Find more information on these exercises here.

I wish You Healthy Throats and Great Singing!

Back from Sore Throat Remedies to Singing Tips With Barbara Lewis