Virtual Concert Hall - Is This Idea For You?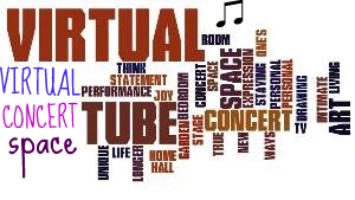 Virtual Concert Hall or Virtual Performance Space
This week, I recieved an e-mail from a reader of the Hot Vocal Tips For Smart Singers Newsletter, Tafadzwa Gubwe, (known as "TG"), asking me about something I had written in a long-past article on this site, the "Virtual Concert Hall."
I was going to respond privately to TGs interest. But I believe the "Virtual Concert Hall" is something that many of you readers may like to think about for your own future work. So here's a fairly detailed response to TG's question, that begins with a very personal story.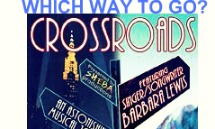 Several Years Ago I reached a difficult point in my life that came after I had been performing & teaching for many years. I´ll spare you the long explanation. Here´s the gist of my "crossroads..."
Singing and teaching voice were the two great joys in my work life. And I wanted to continue performing, but I did not want be "on the road." I also wanted to continue teaching - but I dreamed of being free to live in different cities.
My late husband, Nicholas, a journalist and writer, likewise yearned for more of this kind of freedom in his work. And with happy luck, we both felt the same way at the same time in our careers. We also agreed that we wanted to spend a lot more time together. So we made the decision to create greater artistic freedom by using the internet as much as possible.

For my teaching life, I would create a Web site for singers of all ages and musical styles; a place where I could pass on what I had learned over 30 years and was still learning about the great art of singing. I would also give lessons using video (SKYPE), when possible; though Skype was still in its very early days.
As for my performing life, well, that was more of a challenge. But I decided to begin exploring ways to create what I called at the time, a "Virtual Concert Hall" or "Virtual Performance Spaces."
It was an exciting time in our lives. I started a site called, All About Singing. My husband began to build his writing world on the net. We were together much more often. And while it was very hard work, (with many 14-hour work days), we were also having a lot of fun making things happen on the net. And we were looking forward to leaving Montreal to live in Paris for awhile. Our dream was coming true.
And then suddenly, Nicholas died of a massive heart attack. And all our plans came to a grinding halt. My life changed hugely, of course. I shut down my singing site and went into a long period of rebuilding my life after a 30-year marriage.
Fast Forward To About 3 Years Ago, when I started this site, Singing-Tips-With-Barbara-Lewis.com with similar hopes to what I had previously planned with "All About Singing."
Again, it would be: a site to provide quality information with a very personal touch to singers of all ages and aspirations, with a special focus on the needs of the older (over forty) singer. Since I am also an older singer, I can understand some of the special interests of that age group.
And yes, I have been thinking, once again about the Virtual Concert Hall.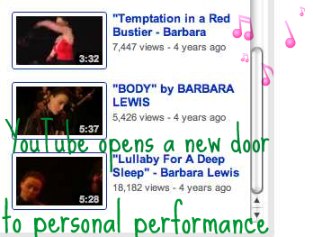 While internet technology has sped ahead in the past few years, and much more is possible now, the idea of the Virtual Concert Hall remains the same to me:
a carefully created situation where a singer can "perform" on the internet - either live or recorded - in a way that gives the viewer the feeling of being at an intimate performance.
This idea has a wide range of possibilities. And all of us can participate to some degree, if we choose!
At one end of the spectrum, you have (we all have) the possibility of sharing our performances on places like You Tube and Vidler...
There are some young and older singers who have done very well using You Tube as a place to display their "concerts." They turn on their home video, walk into their performing space (the bedroom or living room?) and begin to play and sing. Then they share their efforts on You Tube and we viewers can watch at our leisure.
Towards the other end of this big spectrum are the higher-tech live TV shows that are aired on the internet. Have a look at The Wine Guy! - Gary Vaynerchuck's very personal and fun approach to getting more and better wines into people's lives.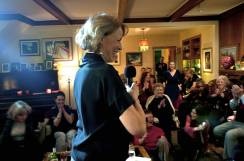 But there is much that lies between these two points on the spectrum. And that is where I find my own excited interest. I have many plans for my own singing (along with invited friends who also sing!) that will include both live & recorded performances - to be aired on the net.
(On the left you see a photo from a performance I gave at a recent "house concert" outside of Montreal.)
I also intend to create a virtual meditation room on my sister site barbaralewis.com, where artists who need some quiet time can tune in for a little serene music and some uplifting thoughts.
As these "Virtual" efforts come closer to fruition, I will be sharing them with you on this site and on barbaralewis.com. For Your Part, if you have any of your own ideas about "Virtual" performances that you would like to share, suggestions to make or questions to ask, you are happily invited to write to me at barbara@barbaralewis.com. I WISH YOU GREAT SINGING!

Back from Virtual Concert Hall to Singing Tips With Barbara Lewis