The Zoom H2 Portable Stereo Recorder - An Easy & Affordable Way To Record Quality Vocals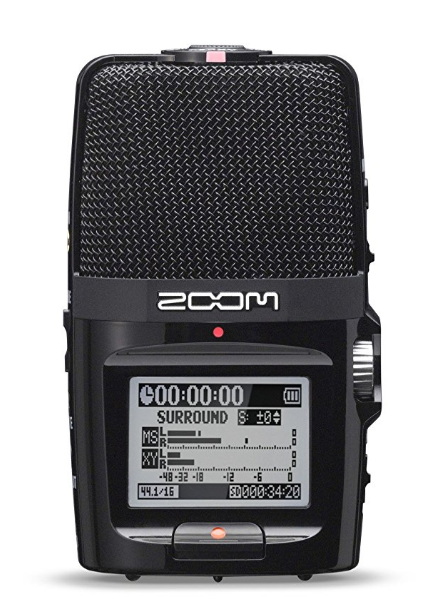 The Zoom H2 Portable Stereo Recorder
Zoom H2 Handy Portable Stereo Recorder
RECORDING VOCALS? Here's what I use for my daily vocal needs... (I do not recommend anything that I have not used or that is not on my own informed wish list to buy!) The Zoom H2 Portable Stereo Recorder. Over the years I have owned many different kinds of musical devices - from cassette recorders to multi-track sound recording machines.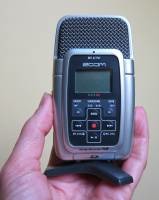 Lately, for my most common needs, I use The Zoom H2! You can see the size of it in the picture on the right.
WHY THIS ONE?
I did a lot of looking around before I chose this gadget. In fact I was really looking for a very simple cassette recorder. Many of my students (of all ages) were STILL bringing in cassettes to tape their lessons. (My years-old cassette player was broken.)
But I could not find a cassette player in any store. (Maybe a garage sale is the place to find those, these days.) So after a lot of looking, I settled on the Zoom H2 Handy Portable Stereo Recorder
because it was not expensive, easy to use, light to carry and it had good sound for both solo vocal work and for bands.
WHY IS THIS IMPORTANT TO YOU? I strongly encourage my students to have a good recording device that is very portable and easy to use. There are others to choose from. It does not have to be Zoom H2 portable stereo recorder.
When you listen to your lesson during the week, it is almost like having another lesson. Only this time, you are a fly on your own shoulder. Also, you hear, yet again what the teacher was saying in order to encourage different or better tone or phrasing etc.
For rehearsals, the benefit is similar. You can gauge quickly what is working and what is going wrong in your songs. I often play back some of the rehearsal right on the spot so that all of us can make quick changes. (Playback requires headphones or plugging into a speaker or computer.)
Sometimes, I do that during a lesson too. It is always a pleasure to see the light go on in a student's eyes when he/she finally understands what is required from them to make a song "come alive."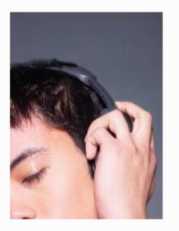 DOWNLOADING THE SOUND FILES
The Zoom H2 Handy Portable Stereo Recorder
will record your songs in MP3 files (of various qualities) or Wav files. With the included connector, you download the files into your computer. I load mine in to ITunes. And from there, I e-mail them to students or, in some cases, I burn a CD. If the files are too big for e-mail, you can use a file-sending program. I use YouSendIt.
I like the fact that this recorder fits easily into my hand. I carry it in an ordinary plastic bag with all the connectors etc.
So, in short here's how I use the zoom H2 portable stereo recorder:
• to record my own rehearsals
• to record the lessons of students
• when I am recording an interview on Skype• when I need to do a quick voice-over for a video or audio clip to put on Youtube
• to record sounds from nature (sea-sounds, birds etc.) that I use in songs or to create sound-environments
IRRITATIONS?
I've used this machine for about a year. Surprisingly, I have had no problems with it except that now and then, it mysteriously loses the date and time...
LISTEN TO A SAMPLE OF THE AUDIO: speech & singing.
This file highlights my "music theatre" solo-vocal style. But the Zoom is useful for all styles of music. You can select the "surround sound" function and put the recorder in the middle of a band. It will pick up sound from all sides of the room. Or like I did, stick it on the piano, when there are just two of you to record. If you are interested in buying the recorder I have recommended - at the best price I have found, just click here:
Zoom H2 Handy Portable Stereo Recorder
2012 Update 
- I also recently bought the Zoom H2N so that I have one recorder to leave in my studio and one to take with me when I travel. I like this one very much, too. It was a little less expensive. But still great sound quality. And easy to use for a non-techie like me.I Wish You Great Singing!

Back from the Zoom H2 portable stereo recorder to Singing Tips With Barbara Lewis