Last Minute Valentine Gifts To Feed The Inner Artist...
It's getting very close to Valentine's Day and you desperately NEED a couple of last minute Valentine gifts ideas...
Is this you?
You know that Valentine's Day is a wonderful occasion to show your happiness that this person is in your life. And you want to give a gift that will be meaningful - that shows you have given the present some thought. But you have no time or energy to run around looking for the perfect offering, even if there is such a thing.
Here are my own solutions and a few suggestions that I hope will help you...I've been a singer and vocal coach for many years. And I can't tell you the number of times that people have taken me aside after a concert or upon hearing that I teach - to tell me in "real confidence" that they have "always wanted to sing, but I could never get up the nerve."

Or - "I dreamed of painting when I was a kid, but my father said, 'No way!'"

Or, - "I'm really a writer, but no one else knows about it."

So when I look for last minute valentine gifts that are easy to manage, I think about the Creative Arts!
Ask yourself, what kind of artistic "thing" would s/he like to pursue?
1. If you believe he may have a yearning to express himself in some artistic way, go for a general book on the arts. Here's one that is a classic - The Artist's Way
. Over the years, the book has received remarkable reviews.
NOW WHAT? Order the book - as a last minute Valentine Gift - and simply print out the beautiful cover from the internet to put inside your Valentine's Card (You did buy one, right? That's a must. OR you could make your own.)
BUT, I DON'T HAVE THE BOOK!
While it may be better to have the book in hand, it's not such a bad thing to get your lover thinking about this "arty" idea before the book actually arrives. S/he can read about it & plan for it. And secretly Love the idea of getting started. Then the book comes in the mail and the fun begins again. (Remember, this is a last minute gift idea!)
2. Perhaps you know that your Valentine doodles and draws all the time. Give her a boost! This book on drawing : The New Drawing on the Right Side of the Brain: A Course in Enhancing Creativity and Artistic Confidence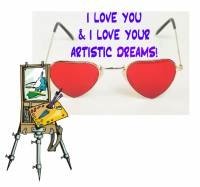 inspired one of my voice students to bring his long-held desire to paint - to fruition. He said the book was "life-changing!"
Again print out the cover, and slip the page into a card. Or send your gal an e-mail with a link to information about the book. Write: "Hey Honey! It's on it's way to YOU!" (DO REMEMBER TO ORDER THE BOOK, THOUGH!)
YOU SEE? THIS IS PRETTY EASY! Just use your imagination about what will please your "Valentine." No need to have it in hand. Instead, tell her about it. Show it to him in a card. Show how much you care about his deepest artistic desires... Now that is a gift with heart!
3. But if you know that your loved one would really like to sing, then consider giving him 3 lessons to find out if he's got both the desire and the talent. Give him a card that says HERE'S YOUR LITTLE PUSH - NOW SING!!!
I hope these last minute Valentine gifts ideas help you to have a very Happy & Creative Valentine's Day!

Back from Last Minute Valentine Gifts to Singing Tips With Barbara Lewis