New Year Ideas for Better Singing!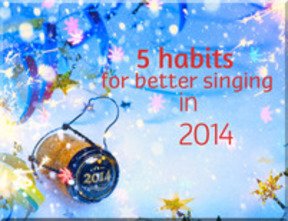 5 New Year Ideas: (not resolutions, just ideas!)
1. Take a few lessons with a teacher you trust. 
- Let someone with real expertise guide you in the musical direction of your choice. Outside ears can tell you a lot about where you are going right and where you need to improve. 
2. Have a singing goal that will entice you to practice your singing.
- An audition maybe?
- A private concert for you friends?
- For those who are more advanced... Find a nearby place to sing and book it - for early in 2014. (Could be a karaoke bar.)
3. Choose 6 songs that you love. (Songs that you believe are good for YOUR voice.) Agree that you will learn & memorize them this year. That is just 1 song every 2 months. Imagine how good you will feel when you have mastered 6 great songs!
4. Commit to a practice routine (at least) twice a week. Sort out the times that this can really happen in your busy life & decide to do it. One of my students who cannot easily practice at home, often practices in her car (not while driving!).
5. Start a special "Singing Book" that you will write in now & then about your singing aspirations. For example, make a note about:
- songs you love
- singers who inspire you and why
- singing tips that make sense to you
- singing teachers who provide good lessons on Youtube
For more Ideas... look here: Powerful New Year Ideas!
-------------

Take a peek at a FREE Lesson Video from a series of lessons I am creating especially for 
Singers Over Forty. 
This 14-minute lesson takes you through the Long-Hold Nee exercise & explains various ways to start a tone. The Series is called, Easy/Fun Singing. This free lesson is part of what will become a for-pay series of videos. Take a peek now! 
Back from Powerful New Year Ideas to Singing Tips with Barbara Lewis