View the You Tube Broadcast of the series, "Sing With Me!"
---

The you tube broadcast of "Sing With Me!" is a 9-part VIDEO series of short (5 to 6-minute) vocal lessons that offer you useful tips and tricks about ways to improve your voice.
Each "lesson" gives you quick and easy insight into how to approach a common vocal challenge: high notes, low notes, smooth singing, ways to soothe a tired voice...
---
HERE IS WHAT ONE VIEWER HAD TO SAY ABOUT BARBARA'S "SING WITH ME!" YOU TUBE BROADCAST.
"I don't take lessons regularly so sometimes I find myself going "off track" and your videos bring me back.  I really love them. I also enjoy reading your articles, they keep me motivated." - Danielle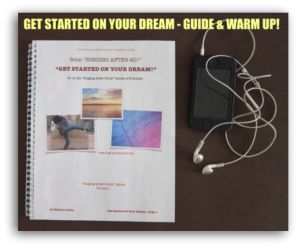 BUT MAYBE YOU ARE STILL AT THE DREAMING STAGE?
GET STARTED ON YOUR DREAM TO SING!
Perhaps you are dreaming about singing? And you don't feel quite ready to start the "Sing With Me" video series. Perhaps YOU or someone you know needs a little push to get started. This may be just the thing For YOU!  
WHEN YOU ARE READY
HERE IS THE 9-PART "SING WITH ME" VIDEO SERIES! 
So......When you are ready, here are the links to the nine-part "Sing With Me" lesson series...
I wish you Great Singing! 
• "Sing With Me" #1 - Soothe Your Vocal Cords!
For those days when you wake up with a raspy voice that doesn't feel good. Perhaps you have sung too much the night before... Here's the long-held "Nooo" exercise.
• "Sing With Me" #2 - Develop Better Vocal Control! 
I am going to demonstrate the exercise - "EE AY AH OH OO" to help build greater control of your voice...
• "Sing With Me" #3 - Sing High Notes!
This exercise is about your high notes. How to approach them with ease, with freedom and with fun.
• "Sing With Me" #4 - Improve Your Low Notes!
I demonstrate how your tongue should behave when you are singing and I take you through an exercise that will help you move down into your lower range more smoothly and with greater ease.
• "Sing With Me!" #5 - How To Sing Difficult Melodies - I give you three ways to approach those wide leaps in a melody that can be a challenge for many singers.
• "Sing With Me!" #6 - Make A Song Your Own - (How To Star In Your Own Song!) In "Sing With Me" video-lesson #6, I give you 4 tips about the subject of how to make a song your own. 
• "Sing With Me!" #7 - How To Sing "Soft" High Notes (Pianissimo)
Singing high notes that are well-controlled and NOT always SHOUTED is a skill that many singers find difficult to acquire. For those vocalists who only use the belting voice, the highest notes will usually have to be loud or louder! The video (#7) shows you a way to approach those high notes...
• "Sing With Me!" #8 - Peek Into Another Singer's World! - Cherylyn Toca (pop singer) Singer/vocal coach, Barbara Lewis speaks with pop singer, Cherylyn Toca about her singing. Cherylyn warms up her voice with several vocal exercises and then sings excerpts from "Time After Time" by Cyndi Lauper. (This is the first you tube broadcast of "A Singer's World" - an ongoing series of profile videos.)
• "Sing With Me!" #9 - Audtions/Performing - 2 Secrets YOU MUST KNOW!Here are two of the most important things a singer should know to bring their auditions and performances to a higher level. Read more about these two Audition & Perfomance Secrets after you watch the video.
I hope you enjoyed this you tube broadcast series. 
I Wish You Great Singing!
Barbara Lewis