Holiday Gifts For Mom - A Mother Who Loves To Sing!
Finding unique Holiday Gifts For Mom can be a challenge.
But, if yours is a Mother who LOVES to sing, consider giving her something extra special this year. A gift that could launch her on a whole new passion that lights her creative fire - A Special Holiday Package of:
Singing Lessons (Special Trio Package!) With Expert Vocal Coach, Barbara Lewis.
This kind of gift-giving can make your challenge to find great holiday gifts for Mom - much, much easier.
Vocal coach, Barbara Lewis has been teaching singers of all ages and vocal styles for over 25 years. Here is what one student had to say:
"Because of your singing advice, my voice has reached a whole new level. I am more confident and can now successfully sing three parts, without any breaks in my voice. I have over 11 different vocal coaches programs, from Per Bristow, Seth Riggs, Anne Peckham. But my most favorite is you." Tafadzwa Gubwe - singer, songwriter
---
A HOLIDAY GIFT THAT KEEP WILL HER LEARNING!
Taking online lessons is a very cool thing to do these days. And it will be quite easy for your Mom as long as she is able to use Skype.
Why would your Mom enjoy Online Lessons?
* She may not live in a city where there is a vocal coach who understands and supports her special musical choices.
* She may not have time in her busy life to get out to a lesson regularly.
* She may be stuck in a rut with her voice and would like to have a session with a well-known teacher who lives far away.

Do you think your Mom is a bit too shy to feel good about taking online lessons? Then here are 3 things you can do to make the process easier and more fun:
1. Purchase a gift certificate for the lessons and Barbara Lewis will speak with her for a few minutes on Skype before any lessons take place. This is a simple get-to-know-you that usually wipes away any fears that a beginning singer is feeling.
2. Send her to this Singing After Forty page with information that will give her singing dreams support and encouragement.
3. Have her watch the video I have posted at the bottom of this page.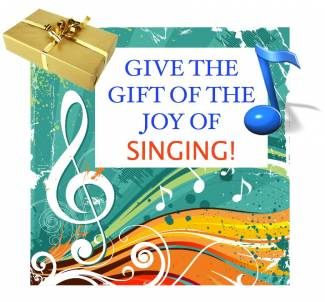 HOLIDAY GIFTS FOR MOM THAT FILL A DEEP ARTISTIC NEED
If you think your Mom really loves to sing and she needs a little bit of encouragement, why not let her follow her dream this year?
GET IT HERE! The Special Trio Package of lessons is a great place to start.
And here is a video Barbara Lewis made for your Mom just in case she is a bit shy about her first video lesson....
Back from Holiday Gifts for Mom to Singing Tips with Barbara Lewis