Links To Numerous Voice Training Tips From Singing Tips With Barbara Lewis (A to H)
See the Main Site Map Link (A to Z)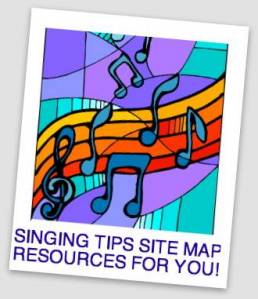 A
AUDITIONS
Audition Songs
Audition Tips
Best Songs
Singing Auditions
Susan Boyle
Singing Tips

B
BARBARA LEWIS
Barbara Lewis
Free Online Christmas Music
Contact Barbara Lewis
Donate To Singing Tips!
BLOG (SINGING TIPS)
Singing Tips Blog
BREATHING
Breathing Exercises For SingersHow Do I Breathe?
Deep Breathing Technique
Diaphramatic Breathing
C
CAREER
Best Singers
Careers In Music
Careers In Singing
How To Become A Singer
Diaphramatic Breathing
How Do I Breathe?
How To Gain Confidence
How To Have Charisma
How To Have Self Esteem
New Years Ideas
Overcoming Stage Fright
Singing Careers
Singing People
Starting A Singing Career
Teacher/Student Communication
Why Communication Is Important
You Tube Music Videos
What is Self Esteem?
G
GIFTS
Cool Gift Ideas
Gifts For Singers
Last-Minute Valentine Gifts
My First Studio Gifts (Zoom)
Valentine Presents For Men
H
(Vocal) Health
Developing Self Esteem
Causes of Sore Throat
How To Handle Stage Fright
How To Have Self Esteem
How To Gain Confidence
Laryngitis
Moshe Feldenkrais
Overcoming Stage Fright
Sore Throat Remedies
Tips On Singing
What Causes Happiness
What Is Self Esteem?
Vocal Health - Readers´ Input
Laryngitis Remedies
I wish you great singing!

Back from Singing Tips Site Map to Singing Tips With Barbara Lewis