Do You Have A few Good Songs To Sing?
Having a few good songs to sing at any time is a great confidence booster for a vocalist.
You know that you can stand & sing a song that will please both you, the artist, and your audience whenever you have the opportunity.
And this is one the the 12 things that I think a singer needs most!
Here is the list of all twelve:
2. Good Health and (3 More Quirky Health Tips)
3. A sense of Humor - (more on this next time.)
4. The ability to feel deeply along with the desire to express those feelings.
5. A personal understanding of what SUCCESS means FOR YOU! - when you are older or when you are younger.
6. A great personal Vocal Warmup leads you with ease and pleasure into your daily singing practice. (This does not mean that the warm up is not "work." You will need to work seriously to sing well. But your initial warm up can be joyful and within your vocal means - at the present time.) This warm up will also evolve as your singing ability changes.
7. Self Esteem and Confidence - (& a few more Confidence Tips.)
8. Especially for those who want to have a career- you need to develop some self promotion wisdom. That is, over time you must find the right ways to Market Your Unique Self! And here are 4 ways to prepare for that.
9. Talent - this one is tricky!
10. At the right time, a good teacher or mentor.
11. A personal style. This "style" is developed over time. It often comes after a lot of copying the work of others. You also develop style by remaining curious and by having a strong desire to keep learning, no matter your age.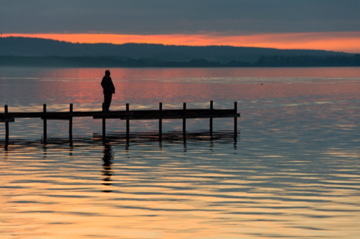 12. An ability to let go; to release (dis)stress. Find outlets that renew your mind and body. (Exercise is a great one!). Meditation (of your unique choosing, of course) can also be very helpful. It is enormously important for artists to be able to draw back, to step away from their usual life rhythms and gain new perspective. Learn to let go of the feeling of struggle that can come with any artistic venture.
Of the 12 qualities I have listed above, this one comes near the top of the list in terms of importance. Singers must find ways to renew themselves.
13. And for good measure, I have made this a "Baker's Dozen! or 13 rather than 12 elements.
The thirteenth "thing" is - make sure that you have a few good songs to sing that you can easily do when someone asks you to perform.
Have at least one song that you can sing without accompaniment, and 2 or 3 others for which you have a nice karaoke arrangement. Always be able to sing in public, (when you are technically able to do it). This will help boost your confidence enormously. Remember - choose SIMPLE songs that are EASY for YOU to sing. (PSST! SINGERS, SIGN UP FOR MY FREE NEWSLETTER -
"HOT TIPS FOR SMART SINGERS" from the
"Smart Singers" series of publications.)
I hope you find a few good songs to sing that will boost your confidence and open the door to even greater singing!

Back From Good Songs To Sing to Singing Tips With Barbara Lewis